Zedd - I Want You to Know feat. Selena Gomez (Cyanomixer Remix)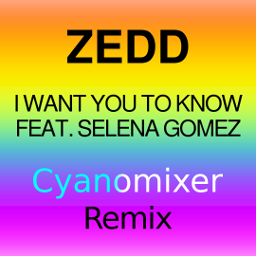 Released
Remix-contest entry! Please support by watching, commenting, and sharing at the contest website. The contest is based on activity, not votes.
Links

YouTube

Contest-Site Channel: No longer available

High-Resolution Cover: Just because (also for music-file metadata since that isn't in there) (PNG, 1080 x 1080 px)

Widescreen Art: Art for widescreen videos (PNG, 1920 x 1080 px)
License
Because of the rules of the contest, I cannot offer an open license for this song. (You are allowed to listen to the song on YouTube.) But if you're interested, the cover and art are available under the Simple Free License.